So, i suppose its fair to say that almost everybody's got a little bit of weight they need or want to put off. But while youre working on that, there are a few pieces you might wanna add to your wardrobe to give the illusion of a slimmer bod. Here they are…
1, Drape neck cardigans…
The wide neck and loose body conceals whatever damage your holiday eating did to your torso while the slim arms give the appearance that you're slim everywhere. It's an optical illusion! For bonus slim-down points, wear it with similarly-hued pants and boots for a monochromatic look.
2, Belted maxi dress…

A belted maxi dress is essential for a woman's body because it conceals unsightly bulges completely and the belt does the magical job of reminding you (and others) that you do happen to have a waist.
3, Slouchy boots…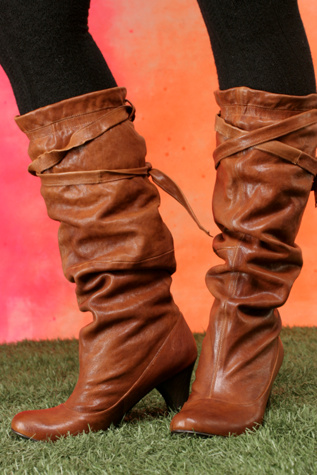 Slouch boots are amazing in the winter when paired with tights, leggings or skinny jeans because they give the illusion that your calves are simply too svelte to hold them up, hence the bagginess around your ankles.
4, Long pendant necklace…
A long necklace is very streamlining and draws the eyes downward. It tricks our eyes into thinking that since the jewelry is long and thin, so is the wearer.
5, A backpack…
Backpacks are HUGE this year. Other than their utilitarian properties like evenly distributing the weight of your belongings while in transit and allowing for hands-free living, they hide back fat. They also force you to stand up straighter by pulling your shoulders back thus making you look thinner and more confident.